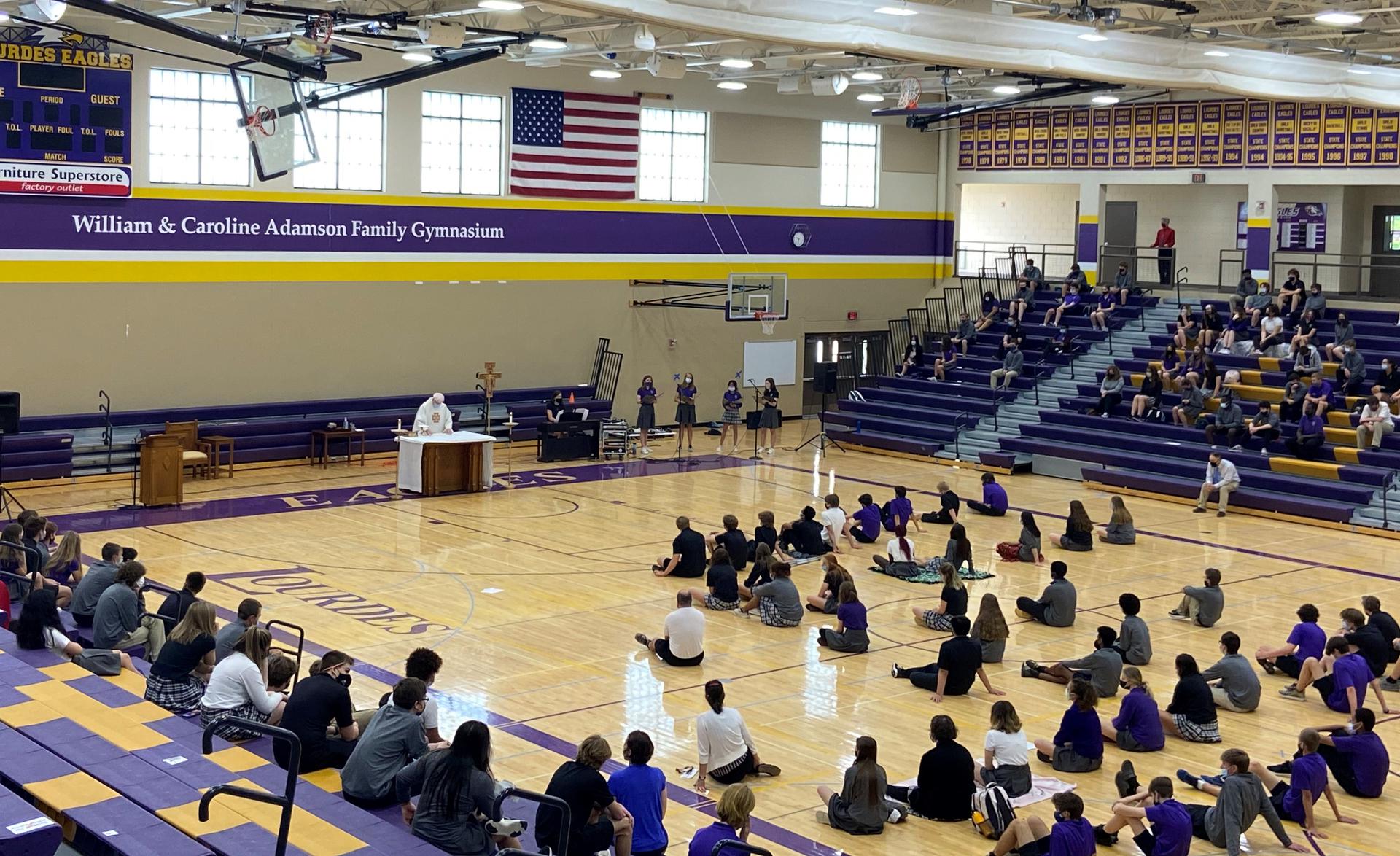 On Tuesday we celebrated our closing Mass of the 2020-2021 school year with Fr. Loomis presiding. We had intended to have Mass as a whole community outside, but the weather was uncooperative. As with just about every other unpredictability this year, we quickly pivoted and made a new plan to worship together in the gym. Having the opportunity to celebrate as an entire community reminded me how incredibly blessed we are to have students and staff who stepped up to the year's challenges and did so with grace. We thank you for all of the ways you have enriched our community.
Blessings,
Ms. Mary Spring
Lourdes High School Principal
Finals will be June 2-4, click here for the finals schedule. Students are required to be in uniform when they are testing. If a student is not scheduled for an exam, he/she does not have to be on campus. If the weather is nice, we encourage students to bring blankets and spend time outside in the courtyard between finals to study or eat. Please note that lunch will not be provided during testing days. Please also note that there will be a chromebook return for each grade on Thursday and Friday.
Adoration will be held in the Lourdes Chapel every Friday morning, 7:15am - 12:00pm, during second semester. Parents and members of the Lourdes community are invited to come and pray with us. For more information about Adoration and our COVID protocol, please contact Katherine Smith (ksmith@rcsmn.org).
We are also looking for people to sign up for a weekly Adoration time. If you would like to sign up for a regular time, please email Katherine Smith at ksmith@rcsmn.org.
Lourdes will be hosting a uniform swap on Tuesday, June 8th from 1-6 pm in the Commons.

If you have items that your child no longer wears, please bring them and swap them for other gently used items. If you do not have an item to swap, we will have a donation box. If you would like to donate items for the swap, please drop them by the front office any day next week between 7:30am-3:30pm.

For the safety of our parent volunteers and other parent shoppers, please bring a mask to shop the swap.

If Seniors have money left over in their lunch account and they have a sibling at Lourdes, the money will be transferred to the sibling. If a senior has no sibling they are able to pick up the refund from the cafeteria on the last day for seniors during non lunch serving times.
Seniors with negative balances need to bring in lunch payments before their last day.
Please notify the school if your child gets the COVID-19 Vaccination
If your child has received both doses of the COVID-19 Vaccination, please share the dates with the school via a picture of the vaccination card or other proof of vaccination so we can record the dates. Once a student is 14 days post vaccination, they will no longer need to quarantine if they are identified as a close contact at school.