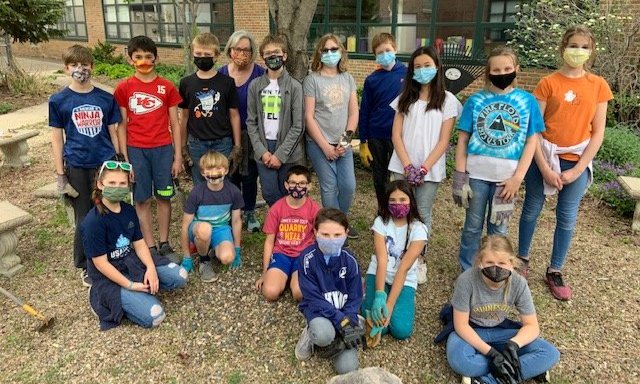 Our fifth grade budding gardeners cleaned up the Peace Garden last week. We are so thankful to them!
May 21, 2021
A Message From the Principal
As we prepare to celebrate Pentecost this weekend, we are reminded of the beginnings of our early church. Jesus promised that when He ascended into Heaven, He would send a helper to us - the Holy Spirit. This weekend we have the opportunity to recall our confirmation - when the gifts of the Holy Spirit were bestowed on us, and we were called to testify on Jesus' behalf. John's Gospel, proclaimed this weekend reminds us '...the Spirit of truth will come and guide you to all truth…' Let us believe in that call and go forward confidently in faith - knowing that it is truth.
We are working hard to finish the school year strong. The warmer the weather - the more challenging it is! Thank you for your partnership. Thank you for sending your children each day prepared to learn and do their best. We are so close to the end of the year, but much remains to be learned! We are making every minute count as we continue to focus on faith, growth, and excellence!
Respectfully,
Barb Plenge
Please send water bottles daily with your children. As the weather gets warmer, we want to make sure the children stay hydrated and can't keep enough bottled water cold in our little office refrigerator for everyone that forgets. The water fountains are shut down other than bottle fillers, so personal water bottles are important everyday.
Several of the Rochester Catholic Schools are currently using an outside vendor for lunch programming. Given that we have been unable to fill lunchroom positions, St. Francis of Assisi School is included in the Request for Proposal process for the 2021-2022 school year. Depending on the results of this process, our hot lunch program will change in it's delivery for the fall. Hopefully, the transition will be relatively seamless for our school families. Stay tuned as more details emerge!
The Home and School Association is working to identify coordinators for a couple events next year. We need individuals or groups to come forward to lead these events: Fall Family Fun Run (2), Science Fair (2), Carnival Food (1), Book Fair (1), Ice Cream Social (1). If we cannot find coordinators, these events may not take place. Please consider if any of these might be areas you can help.
St. Francis of Assisi School
318 11th Avenue SE, Rochester, MN 55901
(507) 288-4816 | rcsmn.org
Unsubscribe