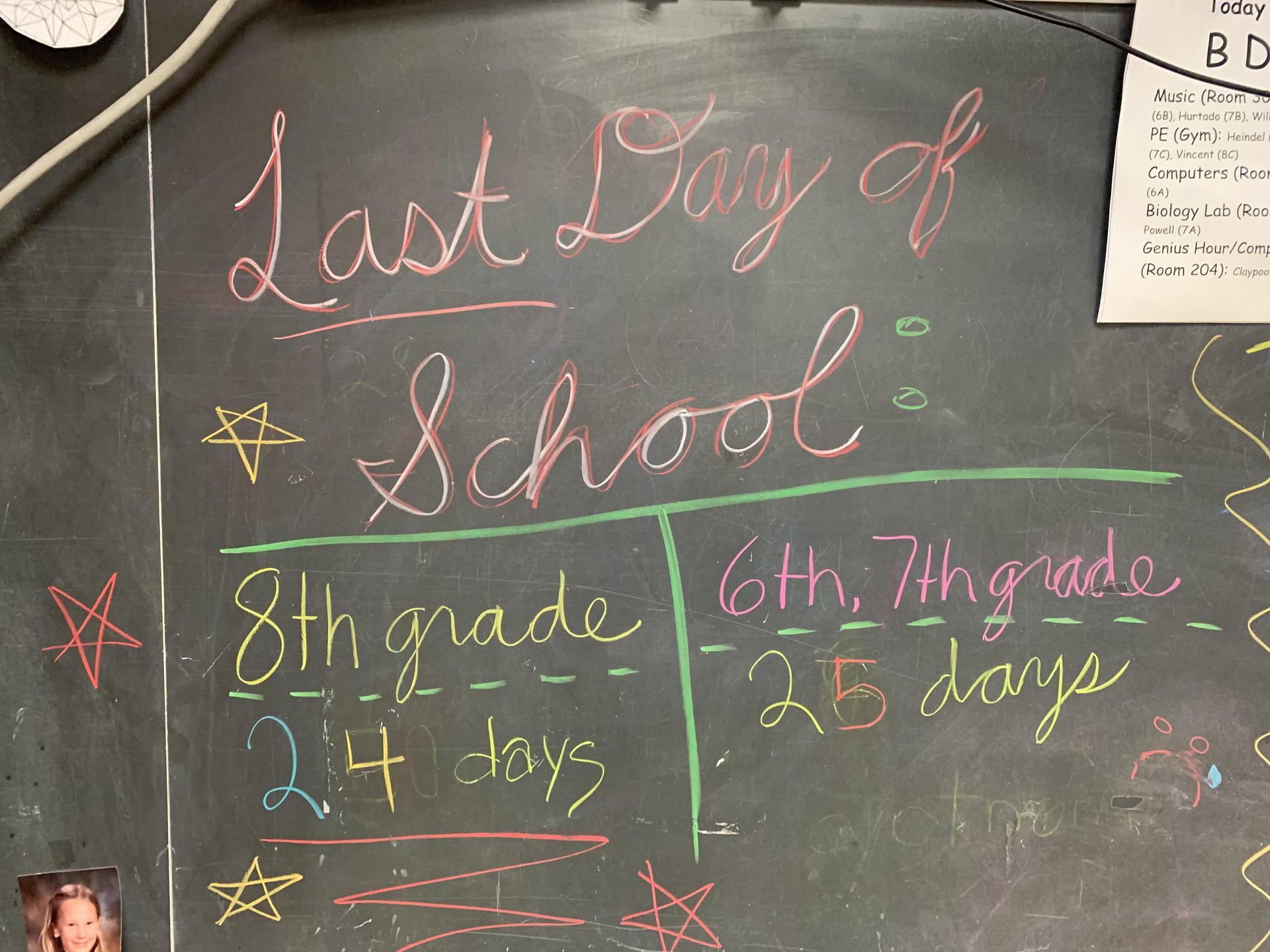 As I was talking to another RCS principal today, I was informed that today is the 146th day of school. As I walked into an 8th grade homeroom, I was informed that there are only 25 more days of school left (24 for the 8th graders). It's very interesting to see the different perspectives of individuals when we are looking at the same, or similar, information. As a community, we have seen a lot of joy and a lot of challenges this year. We have learned a lot about ourselves and each other. We are heading in a wonderful direction, always keeping the spiritual, social, emotional, and academic needs of the children at the forefront of everything we do.
Recently, a parent shared a testimonial with me that said "Rochester Catholic Schools staff have shown up every single day, especially during these difficult and challenging times our world is enduring. They show up with grace and compassion, providing unconditional love and support." You will not find a better example of "showing up" for the children than Mrs. Hurtado. This past week, Mrs. Hurtado's father, Paul Vasterling, became ill. Paul passed away this morning. Mrs. Hurtado showed up today, and all this week for the children. She has shown great strength, love, compassion, grace, and dedication to the children of the Co-Cathedral of St. John the Evangelist Middle School today and every day. Please keep Mrs. Hurtado, her father, and their entire family in your prayers as she takes next week to support her mother and family members through this difficult time.
Matt Langsdale, Principal
For God so loved the world that he gave his only Son, so that everyone who believes in him might not perish but might have eternal life (John, 3:16).
Teacher Appreciation Week - May 3-7
May 3-7 is Teacher/Staff Appreciation Week! This week gives us a chance to recognize the wonderful teachers and staff that make a difference in the lives of our students. We look forward to celebrating all of the incredible work teachers do and the impact that they have beyond the classroom. Let them know how grateful you are with a kind word of appreciation!
May Crowning - Wednesday, May 5th
Traditionally we honor Mary with a May Crowning at an all school celebration in the gym. This year, however, we will celebrate by asking that each student bring a flower to place in a vase by Mary as they enter the building. During announcements we will have a special prayer in her honor. Please encourage your child to bring a flower on Wednesday, May 5th.
Spring Concert Information
Dear Parents,
The St. John Students have been preparing music for our Spring Concert -
The Amazing Elements --- Earth, Wind, Fire, Water --- and Antiseptic Wipes, the newest of the natural elements.
We will videotape our music on May 13. Please have your student dress up on Thursday, May 13.
Boys: Dress slacks, dress shirt, tie optional
Girls: Dress/skirt (knee length or longer) or dress pants/dress top. (No bare shoulders, no flip flops)
We are grateful to Mr. Jonathan Bergmann for videotaping our Concert! The Concert will come home to you before the end of the school year.

Thank you for a wonderful year of music!
Mrs. Sherman
Incoming Lourdes Freshman - Uniform Event
Donald's Uniform will be at Lourdes on Wednesday, June 9th from 12-5 for a uniform fitting event. The event is open to incoming freshmen and all Lourdes students. There will be select merchandise on hand to purchase. To adhere to social distancing we ask that you sign up for a time slot for the event through sign up genius.
Vacation Bible School Volunteers Needed for St. Pius X and Co-Cathedral of St. John the Evangelist
"Totally Catholic Rocky Railway!"
July 26-30th from 9:15-11am at St. Pius X
We are looking for 6-12th graders to help with Vacation Bible School this summer! Youth volunteers are needed to help with planning before the week of VBS (skits, music, decorations, etc.). During the week of VBS we are looking for volunteers who enjoy working with kids to help out each morning. Our youth volunteers are always an essential part of what makes VBS so fun and influential for the children who participate. Sign up online to volunteer here: https://forms.gle/WjzypnQPVKvN8x8V6 or contact Katie Stinson (kstinson@piusx.org) or Megan Rodriguez (mrodriguez@sj.org).
Yearbook Purchases
The deadline for purchasing a yearbook is coming up soon. All yearbooks should be purchased by April 30th. However, if you do miss this date, you will still have the opportunity to purchase a yearbook. It will just cost a bit more as you will be charged shipping. Here are the dates and explanations for ordering a yearbook.
4/30 or earlier: Before Deadline - All orders placed with free shipping
5/1 - 5/14: After Deadline Ship to School - Parent/student will have to pay for shipping and books are shipped to the school.
5/15 and later: After Deadline Ship to Home - Parent/student will have to pay for shipping and books are shipped to their home.
If you have any questions, please contact me at jheindel@rcsmn.org.
Join us as we celebrate National Teacher's Appreciation Week starting Monday, May 3. It is the perfect time to honor the dedicated faculty and staff of RCS who have provided our students with an exceptional in-person education this school year! You are invited to make a gift to the RCS Fund for Academic Excellence and give a special shout-out to an educator who has made a difference in the life of a student and family. Read more...
Lourdes High School is excited to return to live performance with its spring musical, "To Whom It May Concern," by Carol Hall. April 30 and May 1 at 7:00 p.m. The April 30 performance will also be live-streamed. Tickets sold online and by QR code only. Tickets will not be sold at the door. For more information or to purchase tickets, click here.
Co-Cathedral of St. John the Evangelist Middle School
424 West Center Street, Rochester, MN | (507) 282-5248

Unsubscribe