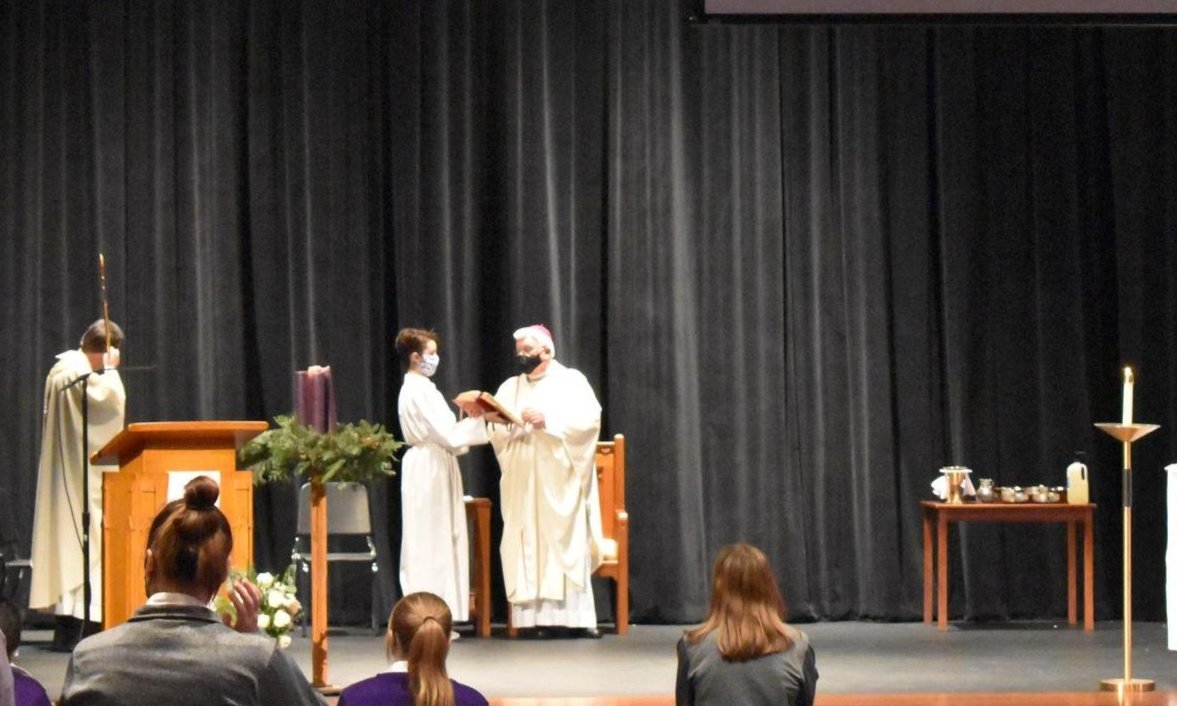 Every year on December 8th, the Church honors the Solemnity of the Immaculate Conception. This feast celebrates that the Blessed Virgin Mary, the Mother of God, was preserved from all stain of original sin from the first moment of her conception in the womb of her mother, Saint Ann. Although each one of us was conceived and born with original sin, the Solemnity reveals that God makes it possible for all of us, by the grace of the Sacraments, to live a life free from sin. Under the special protection of Mary here at Lourdes High School, we come to know freedom from sin by allowing Mary to lead us to Jesus.
We were blessed to have Bishop John Quinn with us this past Tuesday to celebrate the Mass and to reconsecrate Lourdes High School to the Immaculate Heart of Mary. We pray that the Bishop's coming, and Mary's protection, will lead us into this new year with increased rootedness in our community of faith.
Mary Spring
Lourdes High School Principal
For the past 18 years, Lourdes has been matched with financially struggling families in the Rochester community to help provide these families with gifts and funds for Christmas celebrations. Students have been working to raise funds, make cards and write thoughtful messages to the families. If your family is interested in contributing to Adopt A Family, monetary donations are welcome until 12/18/2020.
As we see Minnesota and Olmsted County COVID-19 cases increase, we are asking families to please continue to follow the MDH Decision Tree when assessing their student's health status. If you decide to keep your child home, please include the symptoms that your child is experiencing when you call the school or email lhsattendance@rcsmn.org. If your child has one of the more common symptoms (temp greater or equal to 100.4,new onset/worsening cough, difficulty breathing, new loss of taste or smell) OR two less common symptoms (sore throat, nausea, vomiting, diarrhea, chills, muscle pain, excessive fatigue, new onset of severe headache, new onset of nasal congestion or runny nose) we are going to request that your child have a COVID-19 test before they return to school.
We ask, even when your child isn't in school, that you communicate with the high school if your child has tested positive for Covid 19.
As COVID continues and flu season begins, we all need to continue to be cautious and do what we can to protect fellow students and staff so we can safely stay open.
Monday: Favorite Christmas Movie Character
Tuesday: Flannel Day
Wednesday: Pajama Day
Thursday: Clash of the Classes Color Day
Freshmen: Grinch Green
Sophomores: Icy Blue
Juniors: Winter White
Seniors: Rudolph Red
Friday: Ugly Christmas Sweater Day
*Shorts or skirts must be at uniform length, no ripped jeans or leggings, no baseball caps
Looking for a fun activity to do with your family? Taher is offering unfrosted Christmas cookies with frosting on the side. $6 per dozen.
Click here for more information.
The Diocese of Winona-Rochester will provide a prompt, appropriate, and compassionate response to reporters of sexual abuse of a child by any diocesan agent (employees, volunteers, vendors, religious or clergy). Anyone wishing to make a report of an allegation of sexual abuse should call the Victim Assistance Coordinator at 507-454-2270, Extension 255. Read more
With the busiest shopping days ahead, be sure to pre-order your gift cards! Gift cards make great stocking stuffers and small gifts for friends, teachers, coaches, mail carriers, and more. The deadline for pre-order is Monday, December 14.​​​​ Read more