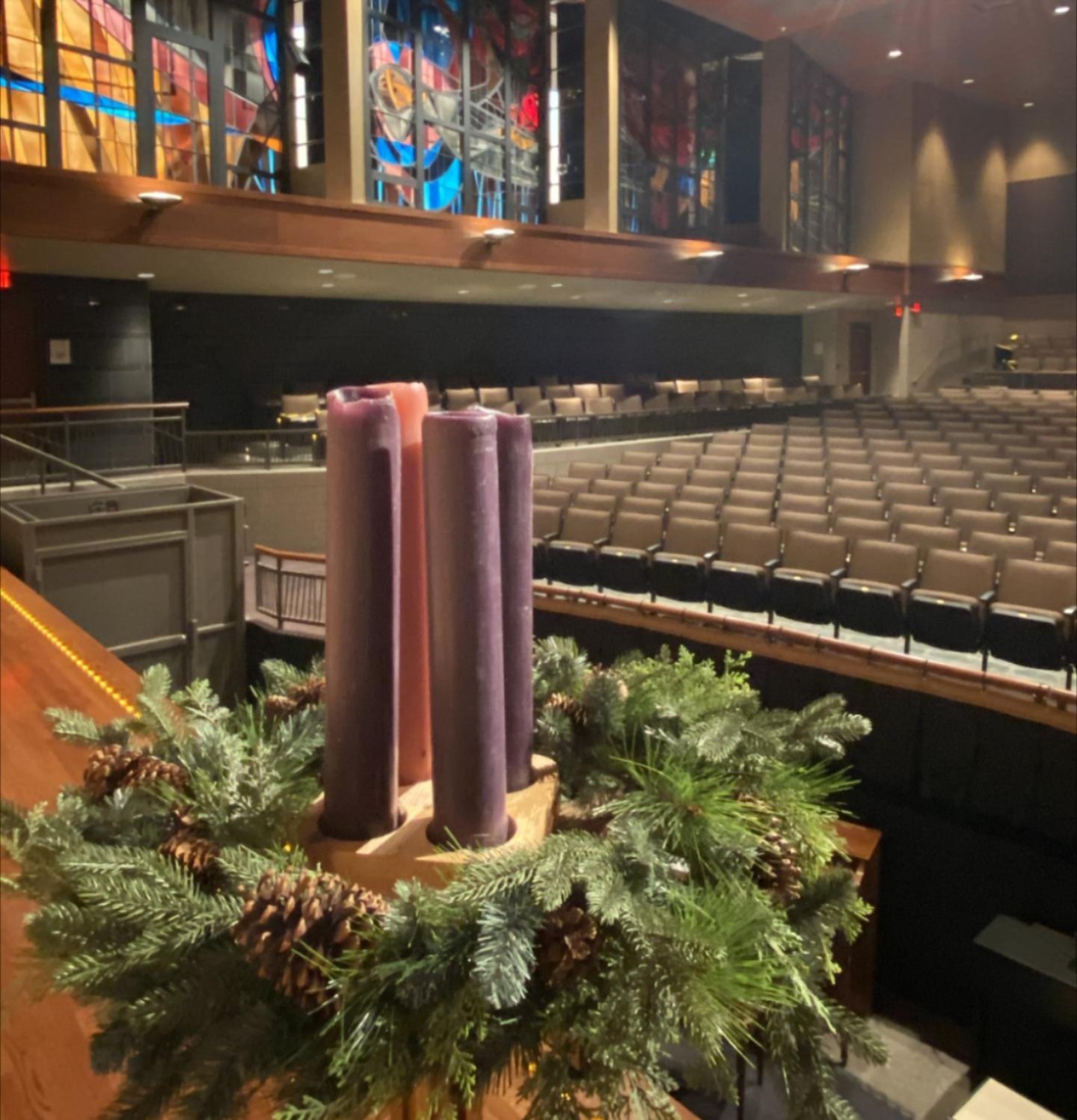 As we enter into the season of Advent and prepare for Christmas, our Lourdes community again participates in Adopt A Family. For the past eighteen years, Lourdes has been matched with members in the Rochester community who struggle financially to help provide them gifts and funds for Christmas celebrations. Throughout this week, students brought in monetary donations for gifts and made Christmas cards to be given to the families. Watching our students excitedly creating cards and thoughtfully writing notes to the families, I was reminded of the purpose of this Advent season of preparation: that we learn to receive the joy of Christ at Christmas through expansively opening our hearts to others. Though our donation and card is but a small gift facing great need, I hope that everyone involved with Adopt A Family--both the families themselves and our students--might experience more fully the light of Christ this Christmas.
As we continue to light a new advent candle each week, we hope that we might continue to open our hearts to the needs of others and invite Christ in.
Peace,
Katherine Smith
Lourdes Director of Campus Ministry
If your child is ill, awaiting a test, or a family member or close contact is being tested, please be sure to keep your child home.
Please notify LHS attendance and have your student contact his/her teachers so that he/she can get homework and/or attend class online.
Due to the changing circumstances around us and in the school, the LHS student service requirement has been adjusted. Rather than the initial 5 hours of documented service per student per semester, each student will now complete 2.5 hours of service by January 23, 2021. Please see here for COVID-friendly community service ideas. Creative ideas for serving the community from the safety of one's own home are welcomed and encouraged. The service documentation form can be found here. Please contact Ms. Smith at ksmith@rcsmn.org with questions.
College Visits look a little different this year! Admissions Representatives are working to connect with students virtually to answer questions and provide information about their institutions. We are scheduling virtual visits during class meeting time and also some evenings and hope all students will take advantage of this opportunity. Upcoming visits include: Iowa State University, University of Iowa, St. Olaf College, St. John's/St. Ben's, Washington University in St. Louis, Luther College, University of Minnesota Duluth, and North Dakota State University.
In addition to the visits that are scheduled just for Lourdes students, most colleges are hosting virtual sessions for all high school students. We have been sharing information about some of these opportunities with students via their Counselor's Google Classroom Pages. Click here if you'd like to see an example of what is being shared with students.
As we see Minnesota and Olmsted County COVID-19 cases increase, we are asking families to please continue to follow the MDH Decision Tree when assessing their student's health status. If you decide to keep your child home, please include the symptoms that your child is experiencing when you call the school or email lhsattendance@rcsmn.org. If your child has one of the more common symptoms (temp greater or equal to 100.4,new onset/worsening cough, difficulty breathing, new loss of taste or smell) OR two less common symptoms (sore throat, nausea, vomiting, diarrhea, chills, muscle pain, excessive fatigue, new onset of severe headache, new onset of nasal congestion or runny nose) we are going to request that your child have a COVID-19 test before they return to school.
We ask, even when your child isn't in school, that you communicate with the high school if your child has tested positive for Covid 19.
As COVID continues and flu season begins, we all need to continue to be cautious and do what we can to protect fellow students and staff so we can safely stay open.
Eighth-grade students and parents are invited to Lourdes High School Family Tour Nights in December. Pre-registration is required. Reserve your personal tour time between 4:00 and 8:00 p.m. on the following dates:

Tuesday, 12/8
Thursday, 12/10
We do not anticipate being able to offer shadow or group visits during school hours this year, so we encourage you to attend a tour to learn about the Lourdes experience. Please contact us at (507) 289-3991 with questions. For more information and to register, visit rcsmn.org/lhstours.