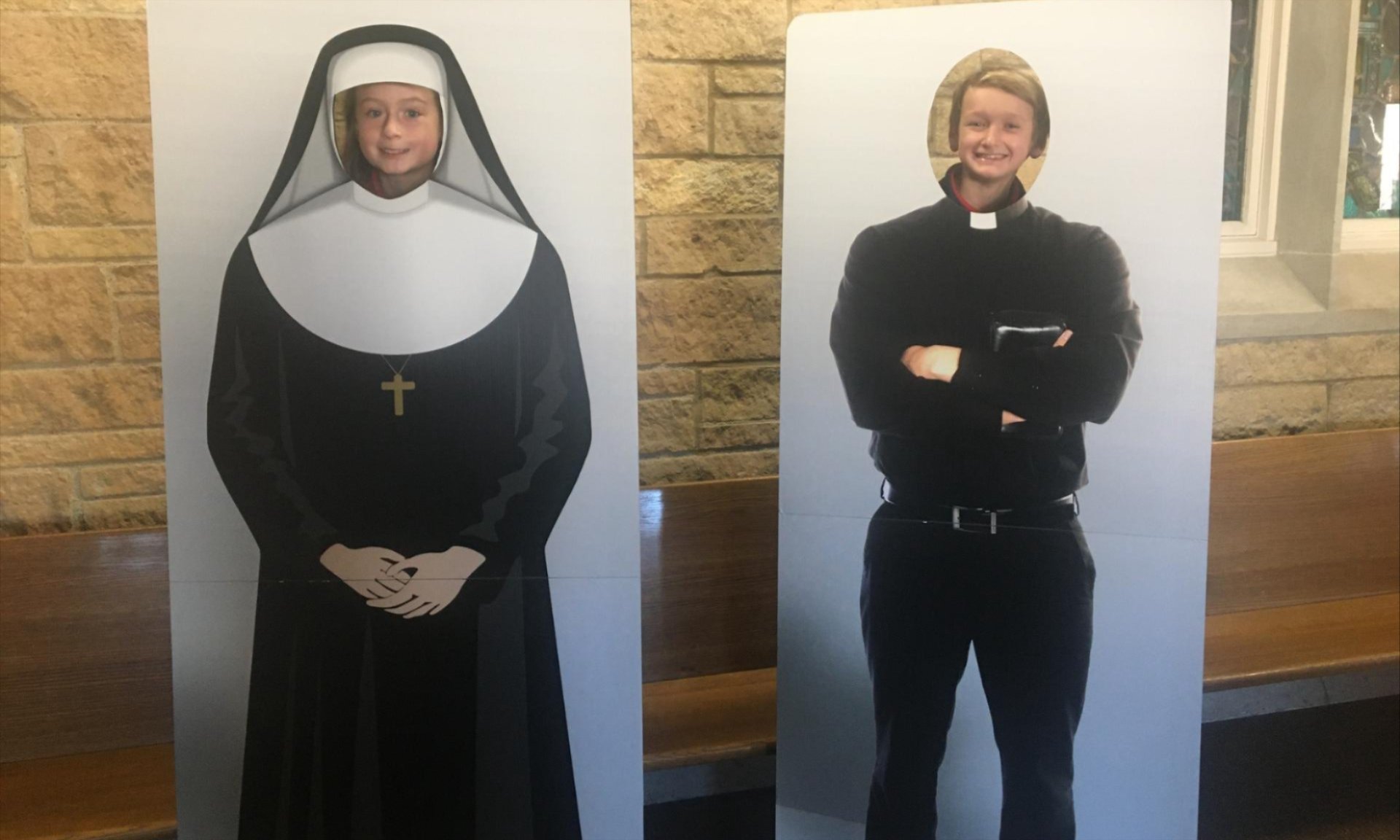 Fourth grade students imagined themselves as a priest or sister after Mass on Tuesday.
2020-11-20
A Message from the Principal
This month of November we have been focusing on gratitude, our virtue of Courtesy and Vocations. Each day we have reflected on a question about some specific thing we are grateful for - from places to textures to challenges, traditions, people and more. This simple exercise allows us to focus on something good and see the many blessings God has made available to us. One of the things I am most grateful for is the privilege to have attended Catholic elementary and high school, and then teach in Catholic Schools. I grew up with church being the center of family life, and priests and sisters who were my mentors, then colleagues and ultimately friends. Being able to absorb faith by walking and working alongside these holy men and women helped me discern how God was calling me to marriage and ultimately to continuing His work in education. Our vocation discernment begins at a young age. We pray and LISTEN to God's voice - often coming through other people. We need religious vocations! As many religious orders are dwindling, there are several attracting young men and women. I remember walking through the Holy places in Rome and Assisi and being struck by the large number of young Franciscans all around me. The Dominican Sisters in TN and MI are other orders that are growing. Are we continuing to invite our young people to this discernment as we educate? Do you know a young person who might be a candidate for priesthood or the convent? Invite them to consider it!
As we approach the Thanksgiving holiday with so many restrictions, let us truly recognize all we have to be thankful for and lift up our thanks to God.
Respectfully,
Barb Plenge
Your gifts on this year's RCS Day of Giving, in addition to your contributions leading up to the event, totalled more than $137,000! Of this amount, more than $73,600 was designated to the new RCS Fund for Academic Excellence in support of our teachers and staff. We are extremely blessed and grateful for your generosity and dedication. We thank YOU - our devoted community - for supporting our students as well as our amazing educators who lead our classrooms and inspire us all! Read more
The RCS Director of Admissions position is currently open and seeking applicants. Please click here for full job description including how to apply.
With the busiest shopping days ahead, be sure to pre-order your gift cards! By using Scrip you not only reduce your tuition but help raise funds for Rochester Catholic Schools!
Gift cards make great stocking stuffers and small gifts for friends, teachers, coaches, mail carriers, and more. You have three more opportunities to submit online orders before Christmas Break. Read more
Registration for winter sports is now open.
A valid sports physical must be on file in the Activities Office prior to registration. If one is not on file, please email it to activities@rcsmn.org.
Click here to register.
St. Francis of Assisi School
318 11th Avenue SE, Rochester, MN 55901
(507) 288-4816 | rcsmn.org
Unsubscribe