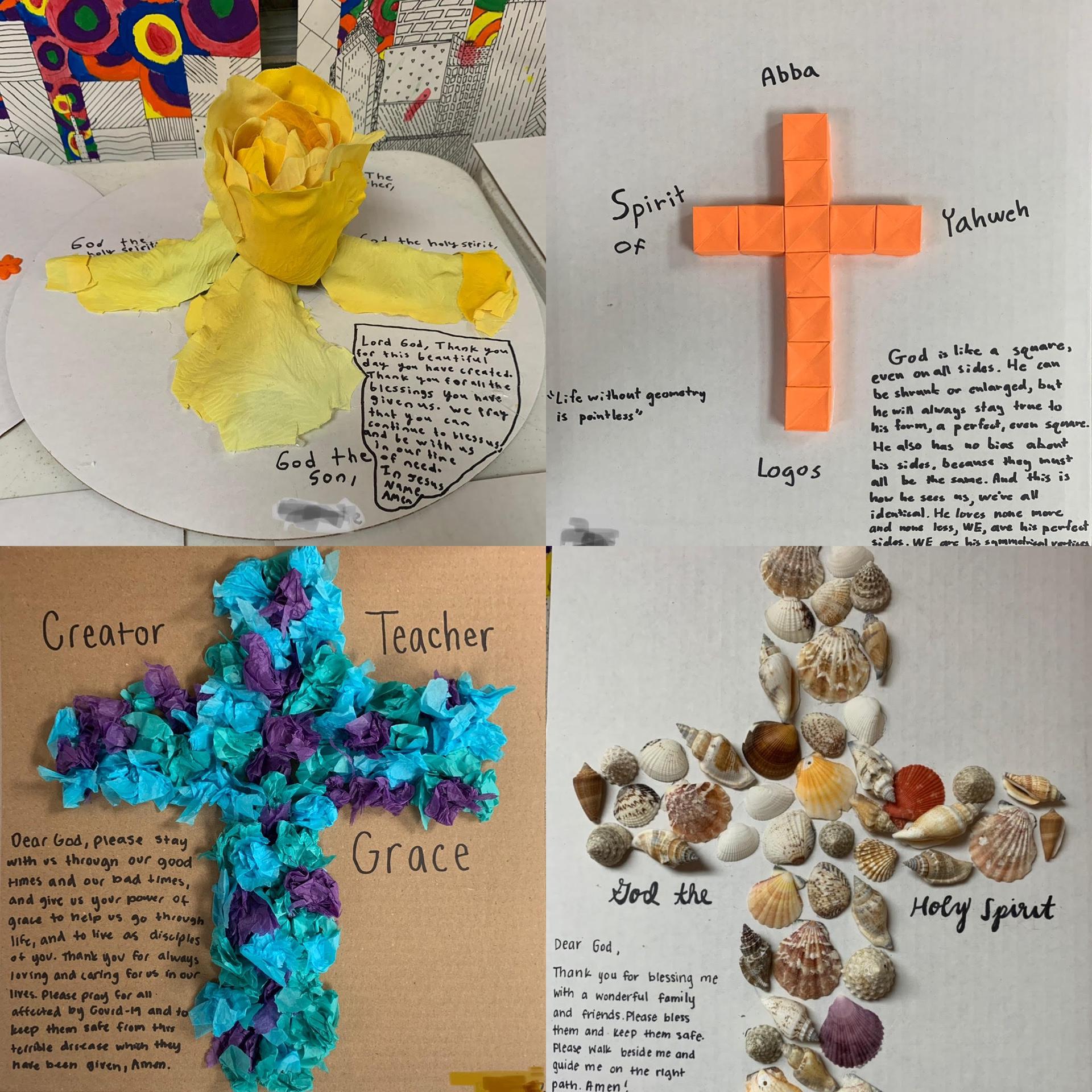 Each day we get to spend in school is such a blessing. So far this school year we have had 50 days of blessings. In this ever-changing world, we will experience ups and downs from day to day. Each challenge offers an opportunity for growth, and we are committed to growing together in mind, body, and spirit. During these strange times, we are getting requests from families to take advantage of our Distance Learning option for their children and we are ready to meet the needs of students as they learn from home. We are also committed to continuing our in-person education for families that choose to have their children here on campus. In-person learning will continue for everyone that chooses this option.

Thank you for your continued support of our great school and the entire Rochester Catholic Schools community. We will continue to count our blessings.

Matt Langsdale, Principal

Therefore, since we are surrounded by so great a cloud of witnesses, let us rid ourselves of every burden and sin that clings to us* and persevere in running the race that lies before us (Hebrews, 12:1).
RCS Annual Day of Giving - We Need You!
Please join RCS on our Annual Day of Giving, Tuesday, November 17th. Mr. Langsdale will be hosting a drive up donation table at the school entrance off of West Center Street that day from 11:00 am-1:00 pm. Please visit the RCS website (www.rcsmn.org) to donate online. Thank you in advance for your generous support.
Diocese of Winona-Rochester - Child Sexual Abuse Policy Information
The Diocese of Winona-Rochester will provide a prompt, appropriate and compassionate response to reporters of sexual abuse of a child by any diocesan agent (employees, volunteers, vendors, religious or clergy). Anyone wishing to make a report of an allegation of sexual abuse should call the Victim Assistance Coordinator at 507-454-2270, Extension 255. A caller will be asked to provide his or her name and telephone number. Individuals are also encouraged to take their reports directly to civil authorities. The Diocese of Winona-Rochester is committed to protecting children, young people and other vulnerable people in our schools, parishes and ministries. The diocesan policy is available on the diocesan web site at www.dowr.org under the Safe Environment Program. If you have any questions about the Diocese of Winona's implementation of the Charter for the Protection of Children and Young People, please contact Mary Hamann, at 507-858-1244, or mhamann@dowr.org.
Christmas Anonymous
Christmas Anonymous has a new format for donations this year. Please click here to see how our school community can continue to help this amazing program during the holiday season.
Thanksgiving Basket Donations
The Co-Cathedral of St. John the Evangelist School Student Council is once again organizing Thanksgiving Baskets for local families in need. Please have students return donations as soon as possible so we can let the items quarantine before distributing to families. Without the support of our families, this event would not be possible. Thank you!
Meal Waiver Program
The USDA recently received approval from Congress to extend a meal waiver program through the end of this school year that will allow all students at Co-Cathedral of St. John the Evangelist Middle School to receive one meal for breakfast and one meal for lunch, free of charge.
Breakfast will be handed out as a unit when students arrive at school, to be eaten in the classroom. Lunch service will not change, except there will be no charge for a complete lunch. Students are required to take ALL components of a meal (fruit, veggies, milk, etc.) in order to qualify for the free meal.
Please note that students are not permitted to receive more than one meal for breakfast, and one meal for lunch, per these guidelines. If a second entree is desired, that will be charged as an a la carte item for $1.50. A single milk without a lunch can be purchased for $.50.
We hope this meal waiver program will be a benefit to all our families who may still be experiencing financial impacts from the effects of the pandemic.
BARB DETTINGER, FOOD SERVICE BOOKKEEPING
Thanksgiving Break
There will be no school Wednesday, November 25th - Friday, November 27th for Thanksgiving Break.
Partners in Faith - November
Please click here for the November issue of Partners in Faith.
November Lunch Menu SJ
Please click here for the November Lunch Menu.
MDH Decision Tree
MDH Decision Tree (The path to follow if a student has sickness symptoms)
Thank you for walking through the daily health screen for each of your children and taking their temperatures each morning. Students and their siblings with a temp of 100.4 or higher are required to stay at home.
More common symptoms (fever 100.4, cough, difficulty breathing, new loss of taste or smell) and less common symptoms (sore throat, nausea, vomiting, diarrhea, chills, muscle pain, excessive fatigue, severe headache, runny nose) should be monitored and guidance followed via the MDH Decision Tree.
You can access the MDH Decision Tree HERE.
We appreciate you reaching your primary care provider for guidance as we navigate through these trying times.
Registration for winter sports is now open. Season start dates for all levels grades 7-12 are as follows:
Boys Basketball - November 23
Boys Hockey - November 23
Girls Hockey - November 30
Girls Basketball - December 7
A valid sports physical must be on file in the Activities Office prior to registration. If one is not on file, please email it to activities@rcsmn.org.
Click here to register.
Co-Cathedral of St. John the Evangelist Middle School
424 West Center Street, Rochester, MN | (507) 282-5248

Unsubscribe