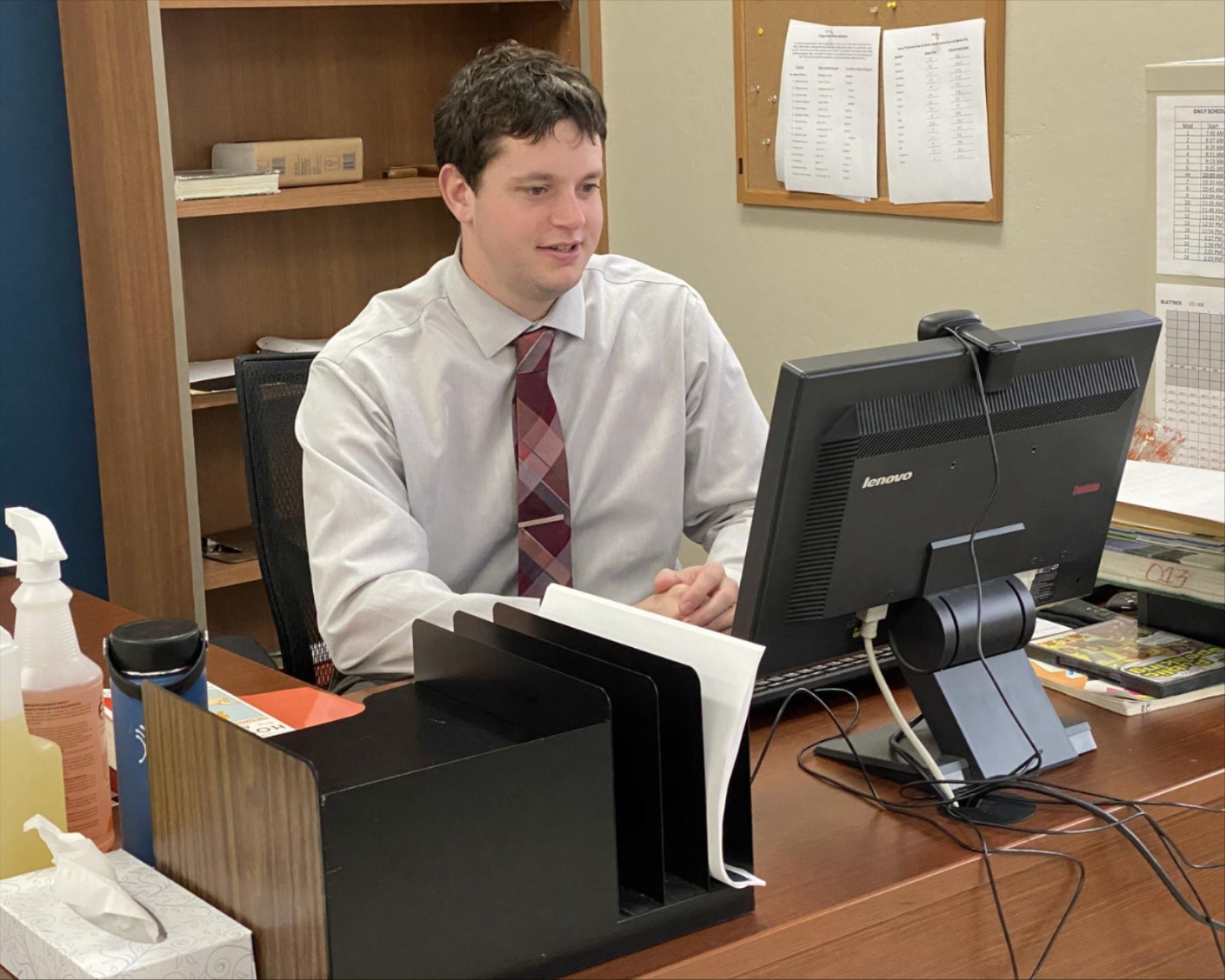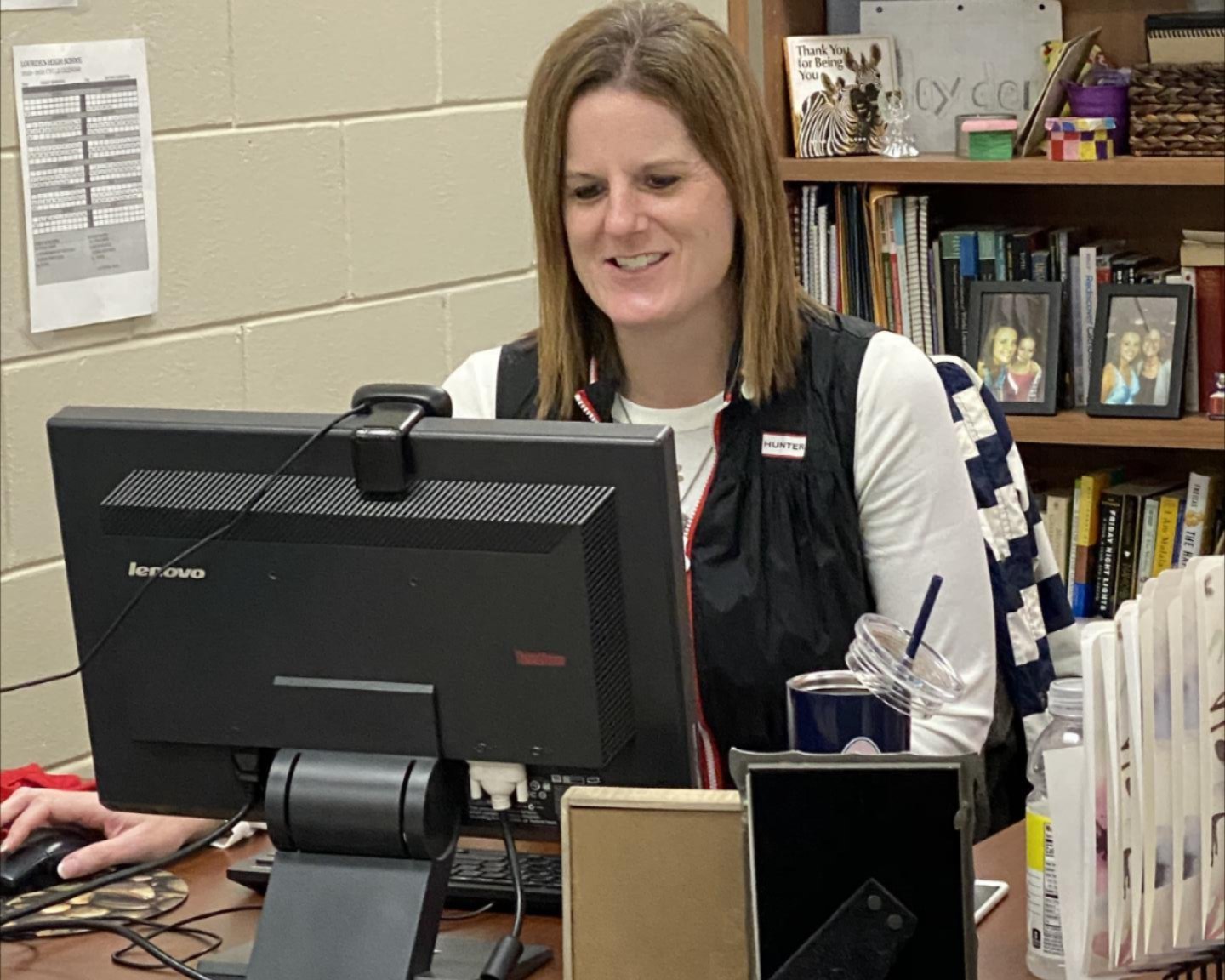 The halls were a bit quieter during parent/teacher conferences this past week. While we missed the face-to-face interaction, it was quite clear that thoughtful communication between teachers and parents still happened. Overall, our teachers were pleased with the event as they were able to have meaningful time with parents. One teacher commented, "It was nice to have time to prepare for each visit. I could see my schedule and have the proper information available for each parent. I enjoyed the convenience of the evening and since this was the first time, I was pleased with the turn out." Pictured above, Mr. Blattner and Miss. Brown connect with parents.
Even though we may have had a hiccup or two along the way, the parent feedback was positive as well. One parent shared, "I loved the ease of moving from class-to-class in my own home! I didn't have to wait in line or make a special trip. I was even able to spend time with each teacher on my list. Overall, it was a wonderful experience."

We would like to hear more from parents regarding our virtual parent/teacher conferences format. Please visit the google form here and share your thoughts with us!

Thank you for your support!
Sarah Groven
Director of Counseling
Sertoma of Rochester recognizes athletes for each season. The Fall Athletes of the Season are:
Jane Spading - Girls Tennis
Jaxon Hopkins - Boys Soccer
Congratulations Jane and Jaxon!
Wrestling season is just around the corner. Students, are you looking for a way to better your performance in another sport, or just get in better shape? Wrestling will help with that. Lourdes co-ops with Byron to create a wrestling team that has had a great tradition of wrestling. There will be an informational meeting right after school in Mr. Hanson's room, ED 131, next Monday, November 16th at 3:00pm. If you cannot attend the meeting, you can still ask Mr. Hanson any questions you have before or after school about wrestling.
Registration for winter sports is now open. Season start dates for all levels grades 7-12 are as follows:
Boys Basketball - November 23
Boys Hockey - November 23
Girls Hockey - November 30
Girls Basketball - December 7
A valid sports physical must be on file in the Activities Office prior to registration. If one is not on file, please email it to activities@rcsmn.org.
Click here to register.
As we see Minnesota and Olmsted County COVID-19 cases increase, we are asking families to please continue to follow the MDH Decision Tree when assessing their student's health status. If you decide to keep your child home, please include the symptoms that your child is experiencing when you call the school or email lhsattendance@rcsmn.org. If your child has one of the more common symptoms (temp greater or equal to 100.4,new onset/worsening cough, difficulty breathing, new loss of taste or smell) OR two less common symptoms (sore throat, nausea, vomiting, diarrhea, chills, muscle pain, excessive fatigue, new onset of severe headache, new onset of nasal congestion or runny nose) we are going to request that your child have a COVID-19 test before they return to school.
As COVID continues and flu season begins, we all need to continue to be cautious and do what we can to protect fellow students and staff so we can safely stay open.
Seniors received a packet of information from Josten's to order caps and gowns. Click here to get to the Josten's Lourdes order page.
Orders were due on 10/30/2020, if you have not ordered your students cap and gown please do so ASAP.
If you are interested in reviewing larger packages offered by Josten's, please click here.
If you checked out any books or other items from the Lourdes High School Library/Media Center that were due between March - September, 2020 please remember to turn them in NOW.
Any overdue or lost fees will be waived up until November 1, 2020. After November 1, 2020 lost fees will apply.