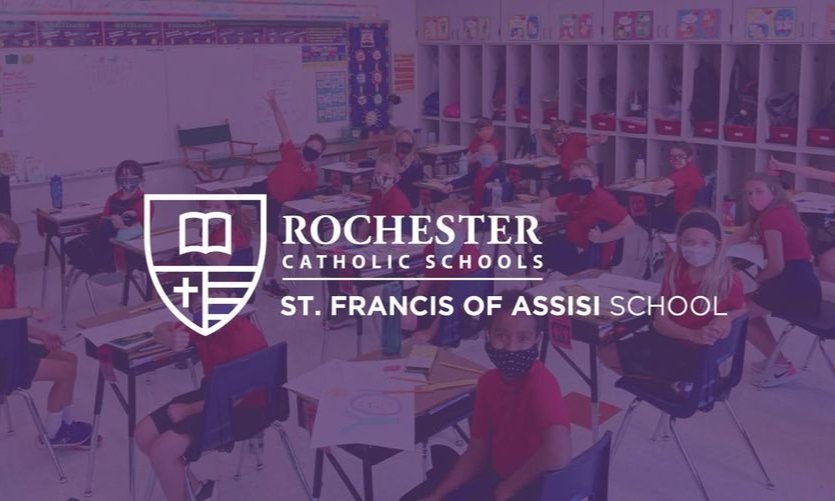 HSA Now on Facebook!
We have started a St. Francis of Assisi HSA Facebook page. Check us out, feel free to share pictures and items that might be of interest to our school community. Thanks to Co-chairs, Josh Noser and Erin Cook for spearheading this!
Click here to join our group https://www.facebook.com/groups/385094862528132
Tell your friends and neighbors about Tour Nights at The Nest. They will discover what makes The Nest at Rochester Catholic Schools one of the best preschools in town. Schedule a personal tour time between 5:00-7:00 p.m. on one of the following dates. Pre-registration is required at rcsmn.org/preschool

November
9th - All three schools
10th - Holy Spirit Catholic School
11th - St. Pius X School
12th - St. Francis of Assisi School
Now more than ever, Mayo Clinic, Olmsted County Public Health, Olmsted Medical Center, and the Centers for Disease Control and Prevention (CDC) recommend all people 6 months and older get vaccinated for the flu to protect themselves and others from getting the flu. For resources and more information about getting your flu shot, click here.
Christmas is two months away! The Spirit Shop Christmas order forms are ready for all your holiday needs. Please view items and find the order form at rcsmn.org/spiritshop. Fill out and drop off/mail your form to either your child's school or the Spirit Shop at Lourdes High School, 2800 19th Street NW. Orders due by November 5, 2020.
RCS traveling youth basketball for grades 4-8 has been cancelled for this year. This decision was made due to restrictions with COVID-19 and the unavailability of facilities.
RCS will be having 7th and 8th grade boys and girls HVL conference basketball. More information to follow as it becomes available.
Bryon/Lourdes Co-op youth wrestling season registration is now open. Sign up can be found here.
Recreational Program ($25)
Beginner wrestlers in grade PK-6 who want a non-competitive program just to learn the basics. Two-week program.
Competitive Program ($100)
Wrestlers in grades PK-6 who want to wrestle at a competitive level and attend tournaments.
Please click here for more information.
The Eagle Booster Club supports the general growth and development of athletics for students within RCS. Membership is comprised of RCS parents, alumni, community members, and businesses working together with goals to heighten, enhance, and enrich the athletics programs. Members promote and provide a high quality experience for students, coaches, directors, and fans through sponsorship opportunities, fundraising, and volunteer efforts. Eagle Boosters are passionate and committed to supporting the overall mission of RCS through support of athletics. Please consider joining the Eagle Booster Club by clicking here and becoming a member today!
St. Francis of Assisi School
318 11th Avenue SE, Rochester, MN 55901
(507) 288-4816 | rcsmn.org
Unsubscribe