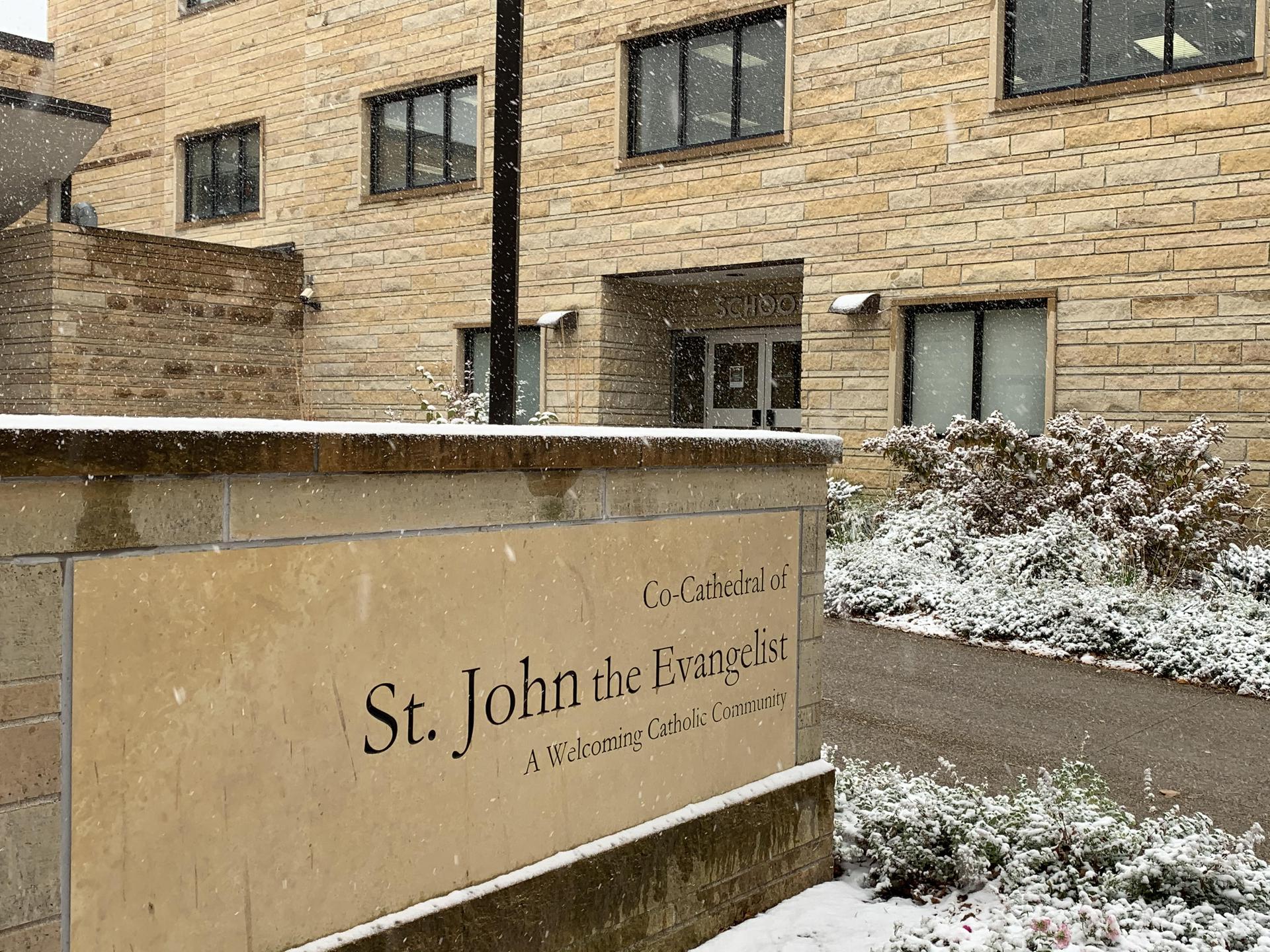 The seasons change pretty quickly around here. Just a couple of weeks ago, students and staff were enjoying the warm Fall weather with classes outside. Now they are wearing winter coats, stocking caps, and gloves. It may warm up a little bit in the coming weeks, but it's unlikely that we will see weather that allows us to hold class outside, until Spring.

Thank you for all of your efforts to support the school during the first 8 weeks of the school year. Next Thursday (October 29th) is the last day of first quarter. I could not be more proud of the efforts of all of the students, staff members, and families. Together we are giving the students a wonderful school (on-campus and online) that will help them develop spiritually, socially, emotionally, and academically. Thank you!

Matt Langsdale, Principal

He says to the snow, "Fall to the earth"; likewise to his heavy, drenching rain. He shuts up all humankind indoors, so that all people may know his work. The wild beasts take to cover and remain quiet in their dens. Out of its chamber the tempest comes forth; from the north winds, the cold. With his breath God brings the frost, and the broad waters congeal (Job, 37: 6-10).
Fundraiser Reminder
Just a reminder that the Fall Fundraiser started this week and students are encouraged to return their completed forms starting on Monday. Prizes will be given daily!
No School Friday, October 30th
There will be no school on Friday, October 30th. It is a professional development day for teachers.
Chipotle Fundraiser

Mark your calendar for Wednesday, November 4th from 4:00 - 8:00. Take the night off from cooking and support St. John Middle School by ordering Chipotle! Please click here for more information. Please make sure to use the Promo Code P2FRC6D.
Young Authors, Young Artists Middle School Conference
Does your child love to write? Draw? Paint? Make amazing origami creations? If so, they should consider attending the annual Young Authors, Young Artists Middle School Conference. While an in-person conference isn't possible this year, the conference organizers are planning a virtual conference for the week of October 26-30. Please click here to see the flyer for more information about the planned sessions.The cost for each participant will depend on the number of registrations, but will be $10 at most. Please contact Mr. Amundson (bamundson@rcsmn.org) by Monday, October 19th if your child is interested in attending the virtual conference.

MDH Decision Tree
MDH Decision Tree (The path to follow if a student has sickness symptoms)
Thank you for walking through the daily health screen for each of your children and taking their temperatures each morning. Students and their siblings with a temp of 100.4 or higher are required to stay at home.
More common symptoms (fever 100.4, cough, difficulty breathing, new loss of taste or smell) and less common symptoms (sore throat, nausea, vomiting, diarrhea, chills, muscle pain, excessive fatigue, severe headache, runny nose) should be monitored and guidance followed via the MDH Decision Tree.
You can access the MDH Decision Tree HERE.
We appreciate you reaching your primary care provider for guidance as we navigate through these trying times.
RCS traveling youth basketball for grades 4-8 has been cancelled for this year. This decision was made due to restrictions with COVID-19 and the unavailability of facilities.
RCS will be having 7th and 8th grade boys and girls HVL conference basketball. More information to follow as it becomes available.
Bryon/Lourdes Co-op youth wrestling season registration is now open. Sign up can be found here.
Recreational Program ($25)
Beginner wrestlers in grade PK-6 who want a non-competitive program just to learn the basics. Two-week program.
Competitive Program ($100)
Wrestlers in grades PK-6 who want to wrestle at a competitive level and attend tournaments.
Please click here for more information.
The Eagle Booster Club supports the general growth and development of athletics for students within RCS. Membership is comprised of RCS parents, alumni, community members, and businesses working together with goals to heighten, enhance, and enrich the athletics programs. Members promote and provide a high quality experience for students, coaches, directors, and fans through sponsorship opportunities, fundraising, and volunteer efforts. Eagle Boosters are passionate and committed to supporting the overall mission of RCS through support of athletics. Please consider joining the Eagle Booster Club by clicking here and becoming a member today!
Co-Cathedral of St. John the Evangelist Middle School
424 West Center Street, Rochester, MN | (507) 282-5248

Unsubscribe