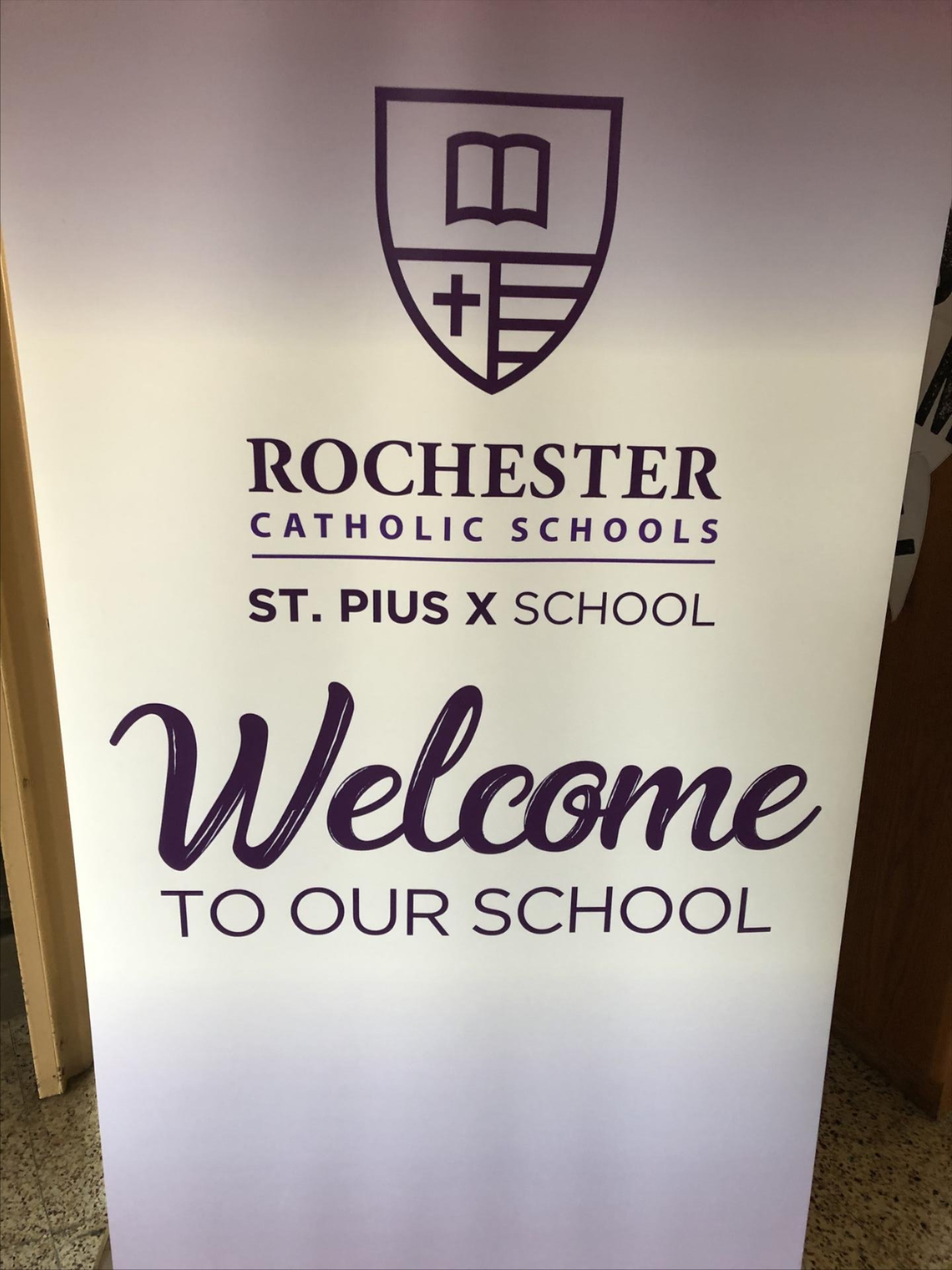 Good afternoon St. Pius X Families,
We at St. Pius X all want to welcome you to the 2020-21 school year. As the new principal, I am so excited to be joining your school community as we begin an unprecedented return to the school building. You should have received an email yesterday with the initial version of our St. Pius X Return to School Plan. Please know that as teachers return to the building this week, this plan may be modified to better serve our students' needs in order to best provide for their safety, peace of mind, and educational goals. I welcome your feedback as we look to partner with our parents in providing the best Catholic education possible for our students. Finally, with the reduced busing options due to ISD #535's academic plan, please let me know if you would be interested in working with other parents to consider alternative transportation options.

God Bless,
Dave Jenson
UPDATE - Folder Pickup
We still have several folders to be picked up. Please stop by the school lobby and pick up your student folders. (August 17th - 21st, 8:00 a.m. - 4:00 p.m.). One member per family, please. Plan to wear a mask and observe social distancing. These packets contain many important forms that must be returned prior to the start of the school year. Please return the folders and completed forms to the marked bins in the entry area of Door #1 between August 24th - 28th. Your cooperation in this helps begin the school year in a positive way.
If you are in need of Used Uniforms - they are available on the rack in the first floor hallway.
Please click here to view the RCS Dress Code. Please click here for the Donalds Uniform Website.
No Student Flu Shots at School This Year
At the recommendation of our healthcare partners, influenza vaccinations (flu shots) for students in Olmsted, Dodge, Goodhue and Mower County schools this fall have been cancelled. Your child will not receive a flu shot at school this year.
Please be aware that the 2020 flu vaccine is not available in Minnesota at this time. Watch for details on flu shot availability in your community in the late September or early October timeframe. We recommend all families receive their flu shots by the end of November 2020.

More than ever before, it is important that everyone six months of age or older receives a flu shot. On its own, flu can cause serious problems in young children, older adults and people with medical conditions. Due to the ongoing COVID-19 pandemic, a rough flu season could cause serious issues for our communities, further reduce school attendance and stretch health care availability.
Immunizations
Be sure that your child's immunizations are up to date before school starts. NO SHOTS-NO SCHOOL
Student Use of Google Apps for Education
Returning students and families:
Please take a minute to read over the updated Technology Use Policy and Agreement from our RCS Technology Department by clicking link below.
Returning 4th grade students and families:
Please read the updated Chromebook Loan agreement, by clicking link below, fill it out and return it to school. (We will need this in the event of any distance learning during the year.)
Returning 5-8 students and families:
Please read the updated Chromebook Loan agreement by clicking link below. The forms you have previously signed are good for the entire time of your students' enrollment at RCS.
New students in grades 4-8 and families: Please read the Technology Use Policy and Agreement by clicking link below, and the Chromebook Loan/Use Agreement by clicking link below. Copies of the forms will be in your Welcome Days packet for you to fill out and return.
https://www.rcsmn.org/uploaded/Lourdes_High_School_(9-12)/2019-2020/RCS_Technology_Use_Policy_for_Students_(3).pdf
https://www.rcsmn.org/uploaded/Lourdes_High_School_(9-12)/2019-2020/RCS_Chromebook_Loan_Agreement_(2).pdf
The forms you sign this year will be applicable to your student for their entire time with RCS. However, you will be asked to review the updated RCS Technology Policies annually.
Medication Notes and When Your Student is Ill Information
Please take some time to review the Medication Notes and When Your Student is Ill information.
Click here for Medication Information and for When Your Student is Ill Information. This is for normal illnesses. Separate guidelines for COVID symptoms, exposures and positive tests will be shared once the protocols are in place.
Transportation
Rochester Public Schools will provide transportation for our students at the same level of service they are providing for their students. That means K-8 will be bused 2 mornings a week. There will be no busing on Wednesdays and no afternoon busing (at least through the end of October). Please contact Rochester Public Schools transportation with questions at 328-4260.
Picture Day Rescheduled - 2020-2021
Picture day is rescheduled for Tuesday, October 6th. Retakes are also being rescheduled. We will let you know when that will be. This is a non-uniform day for students.
Lunch Information
Our lunch program will be different this year. A company called Taher will be serving the lunch. The cost of lunch for the 2020-2021 school year is $3.10 per meal (adults $4.10). A carton of milk is provided with each lunch. Extra carton of milk price is $.50/each.
You can pay for this using the portal or just drop a check off in the school office.
Please click here for the form for Free and Reduced Lunches.
St. Pius X School Supply List
Please click here for the St. Pius School Supply List
Circle of Grace Information
Every classroom in the Diocese of Winona is required to participate in a Safe Environment curriculum called "Circle of Grace". Most classrooms cover this curriculum at the beginning of the year. More information is available by clicking here.
As we are quickly approaching the 2020-2021 school year, Rochester Catholic Schools (RCS) is reminding families to get your children up-to-date on required shots before the school year begins.
Pursuant to Minnesota law, RCS requires written proof of scheduled shots for all students in preschool-12 before the first day of school. This policy is also known as "No Shots, No School." This means that if your child will not be allowed to begin school until this information is verified. If your child has a medical reason, or if his or her parents are conscientiously opposed to any of the scheduled shots, a legal exemption is available. This legal exemption would also need to be received prior to the the first day of school.
Additional information can be found on the Minnesota Department of Health's website. The Minnesota Required Childhood Immunization Schedule can also be found on MDH's website.
If you are not sure if your child is up-to-date on his or her immunizations, please check with your health care provider.
If you do not have insurance, you may contact Community Health Service (507) 529-0503 or Olmsted County Public Health Services – Immunization Clinic at (507) 328-7500 for additional information.
If your student requires medication at school, please work with your child's provider to get up to date Action Plans and Medication Authorizations if needed for the upcoming school year. Many providers will generate Action Plans in the office, but if needed Action Plan forms, along with Medication Authorization forms, can be found on the RCS website.
Prior to the beginning of the school year, you can bring your child's current plan and medication to the school's health office. The medication must be brought into the health office by the parent/guardian in the original packaging. Prescription medications must be labeled for the student by a pharmacist in accordance with the law.
Please contact your child's Licensed School Nurse with any questions or concerns you have regarding your child's health condition or medications needed at school. Licensed School Nurses are available beginning in mid-August.
In light of the current health concerns, the VIRTUS® Protecting God's Children training has been made available online. Click here for information on how to register for the online training. It is the same process as signing up for a live training. The difference is once all the personal information is entered and the background check is completed (volunteers ONLY) the online training is available to launch. The training takes 60 to 75 minutes to complete. Please note that this is NOT the recertification training.