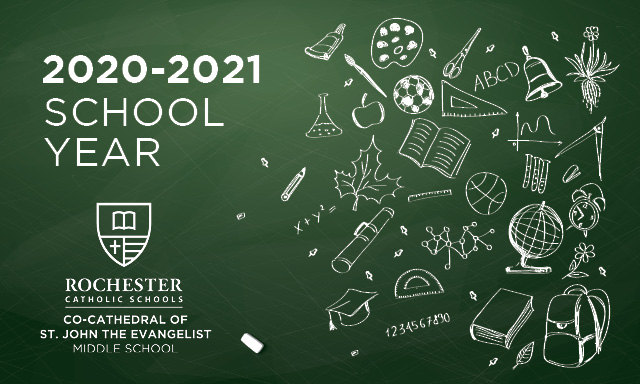 Dear Co-Cathedral of St. John the Evangelist Families,

The first day of school is one month away. The teachers and support staff have been working hard to develop our plan to safely have all of our students back on campus starting August 31st. Safety is our top priority as we bring our students back to continue to develop the spiritual, social, emotional, and academic growth of our students. We look forward to continuing to partner with parents and the Catholic faith community to nurture the development of a Christ-centered learning environment that fosters a culture of excellence where students grow in wisdom, courage and character. Our school will be prepared to challenge and support students to become critical thinkers, collaborative problem solvers, creative visionaries and servant leaders who bring hope to the world.

There are many pieces of information in this Broadcast, and these pieces may change as the days go by. We will do our best to keep you informed of changes as quickly as we can. Please take this last month of summer to enjoy every day with your family.

We will see you in one month. God Bless,

Matt Langsdale, Principal
Welcome Days - Folder Pickup - Used Uniforms
Families should plan to stop by the school lobby and pick up your student folders during Welcome Days (August 12th - 14th, 8:00 a.m.-4:00 p.m.). (One member per family, please. Plan to wear a mask and observe social distancing) These folders contain many important forms that must be returned prior to the start of the school year. Please return the folders and completed forms to the marked bins in the entry area of Door 17 by the playground between August 24th - 28th. Your cooperation in this helps begin the school year in a positive way.

If you are in need of Used Uniforms - they are available on the rack in the first floor hallway.
Please click here to view the RCS Dress Code. Please click here for the Donalds Uniform Website.
First Day of School - Monday, August 31st
Classes for grades 6-8 begin on Monday, August 31st. The school day begins promptly at 8:55 a.m. Students must be in their classrooms for announcements and prayer by 8:55 a.m. or they are considered tardy. Dismissal is at 3:35 p.m. We ask that students be picked up promptly at 3:35 p.m. Busing information will be forthcoming.
2020-2021 St. John the Evangelist School Calendar of Events
Please click here for the 2020-2021 St. John School Calendar of Events. Dates in Red have not been finalized yet. Please note - these dates and events may be subject to change.
PE Uniforms for 2020-2021
All students at St. John Middle School are required to change for Physical Education classes. RCS has a standard PE uniform available through the Spirit Shop at Lourdes.
Student Use of Google Apps for Education 
Returning students and families:
Please take a minute to read over the updated Technology Use Policy and Agreement from our RCS Technology Department by clicking link below.

Returning 6-8 students and families:
Please read the updated Chromebook Loan agreement by clicking link below. The forms you have previously signed are good for the entire time of your students' enrollment at RCS.
New students in grades 6-8 and families: Please read the Technology Use Policy and Agreement by clicking link below, and the Chromebook Loan/Use Agreement by clicking link below. Copies of the forms will be in your Welcome Days packet for you to fill out and return.
RCS Technology Use Policy Link - RCS TECHNOLOGY USE POLICY - Policy 4055
RCS Chromebook Loan Agreement Link -RCS Chromebook Loan Agreement
The forms you sign this year will be applicable to your student for their entire time with RCS. However, you will be asked to review the updated RCS Technology Policies annually.
Lunch Information
Our lunch program continues to be served through Taher. The cost of lunch for the 2020-2021 school year is $3.10 per meal (adults $4.10). A carton of milk is provided with each lunch. Extra carton of milk price is $.50/each.
Please click here for the form for Free and Reduced Lunches.
Picture Day - 2020-2021
Picture Day is scheduled for Tuesday, September 15th. This is a non-uniform day for students. Picture retake day is Tuesday, October 20th.
Medication Notes and When Your Student is Ill Information
Please take some time to review the Medication Notes and When Your Student is Ill information.

Click here for Medication Information and for When Your Student is Ill Information. This is for normal illnesses. Separate guidelines for COVID symptoms, exposures and positive tests will be shared once the protocols are in place.
Office Hours and Attendance
We will resume regular office hours (8:00 a.m.- 4:00 p.m.) beginning August 12th. If you have questions, please do not hesitate to call (282-5248 or email dcameron@rcsmn.org.
If your child will be absent or is ill please email us at stjattendance@rcsmn.org by 9:30 am.
Circle of Grace Information
Every classroom in the Diocese of Winona is required to participate in a Safe Environment curriculum called "Circle of Grace". Most classrooms cover this curriculum at the beginning of the year. Homeroom teachers will send home information prior to teaching these lessons. More information is available by clicking here.
Summer Required Reading
Please click here for information on the required Summer Reading for grades 6-8.
School Supply List
Please click here for the School Supply List for 2020-2021.
As we are quickly approaching the 2020-2021 school year, Rochester Catholic Schools (RCS) is reminding families to get your children up-to-date on required shots before the school year begins.
Pursuant to Minnesota law, RCS requires written proof of scheduled shots for all students in preschool-12 before the first day of school. This policy is also known as "No Shots, No School." This means that if your child will not be allowed to begin school until this information is verified. If your child has a medical reason, or if his or her parents are conscientiously opposed to any of the scheduled shots, a legal exemption is available. This legal exemption would also need to be received prior to the the first day of school.
Additional information can be found on the Minnesota Department of Health's website. The Minnesota Required Childhood Immunization Schedule can also be found on MDH's website.
If you are not sure if your child is up-to-date on his or her immunizations, please check with your health care provider.
If you do not have insurance, you may contact Community Health Service (507) 529-0503 or Olmsted County Public Health Services – Immunization Clinic at (507) 328-7500 for additional information.
If your student requires medication at school, please work with your child's provider to get up to date Action Plans and Medication Authorizations if needed for the upcoming school year. Many providers will generate Action Plans in the office, but if needed Action Plan forms, along with Medication Authorization forms, can be found on the RCS website.
Prior to the beginning of the school year, you can bring your child's current plan and medication to the school's health office. The medication must be brought into the health office by the parent/guardian in the original packaging. Prescription medications must be labeled for the student by a pharmacist in accordance with the law.
Please contact your child's Licensed School Nurse with any questions or concerns you have regarding your child's health condition or medications needed at school. Licensed School Nurses are available beginning in mid-August.
In light of the current health concerns, the VIRTUS® Protecting God's Children training has been made available online. Click here for information on how to register for the online training. It is the same process as signing up for a live training. The difference is once all the personal information is entered and the background check is completed (volunteers ONLY) the online training is available to launch. The training takes 60 to 75 minutes to complete. Please note that this is NOT the recertification training.
Co-Cathedral of St. John the Evangelist Middle School
424 West Center Street, Rochester, MN | (507) 282-5248

Unsubscribe